Gangsters Out

Veritas Aequitas - Truth and Justice

Gang Member Registry

I am a Canadian, free to speak without fear, free to worship in my own way, free to stand for what I think right, free to oppose what I believe wrong, or free to choose those who shall govern my country. This heritage of freedom I pledge to uphold for myself and all mankind." From the Canadian Bill of Rights, July 1, 1960

The man shot dead was an Indo Canadian Longshoreman

At 4:10 of this Youtube video, we see another longshoreman getting kicked out of a nightclub by Barwatch for gang affiliations. He looks a lot like the victim that was recently shot dead in Surrey.

Hells Angels control of the Vancouver docks

Historically, The Gypsy Wheelers in White Rock were fine. Satan's Choice in Vancouver always were f*ck ups. Little Ryan is a way better musician then Weird Hal and Madchild Pedophile. History has recorded that.

Snak The Ripper slays Madchild Bitch

Weird Hal isn't Old School he is NO school and he most certainly isn't a gangster. No one cares you're on a dumb ass boat and that loser kissing his butt ugly ring has no self respect whatsoever. The only way that clown could live large is if someone gave him a step ladder. Even Barbie is taller then he is.

CBC is reporting that "Members of the Hells Angels, street gangs, alleged members of the Montreal Mafia and the son of Vito Rizzuto are facing charges including conspiracy to commit murder, drug trafficking, money laundering and illegal weapons possession following a series of high-profile raids in the Montreal area on Thursday. Those arrested and charged include Maurice (Mom) Boucher, the imprisoned former boss of the Hells Angels in Quebec, and his daughter Alexandra Mongeau. Along with Hells Angels member Gregory Woolley." Evidently Mom Boucher is not out in bad standing. Boucher got his patch after serving time in prison for armed rape and was involved in the Death Riders betrayal along with Biff Hammel.

I've seen too much hate to want to hate

Canadian man's selfie altered to look like Paris suicide bomber

CBC is reporting that

"A Spanish newspaper apologized Sunday after it printed the photo of a Canadian Sikh man, which had been altered and presented as the image of a person responsible for the deadly attacks in Paris on Friday. The image appeared to show Jubbal, who was not identified by name, wearing a suicide bomb vest and holding a Qur'an."

Sikhs are not Muslin. They don't use the Qur'an and they don't speak Arabic they speak Punjabi. CBC claims "the photo was eventually posted by an unofficial ISIS support group on the social media platform Telegram, the same platform that ISIS used to claim responsibility for the Paris attacks." Gee I wonder if that's the same ISIS support group CSIS was caught funding?

French Intelligence helps cocaine traffickers escape prison

"Air Cocaine pilots reportedly helped to escape to France by former French intelligence agents and a far-Right politician" Which far-Right politician? Don't tell me it was the chien sal himself Nicolas Sarkozy. Who else could it be? Tell me what does a far right politician and former French Intelligence agents have to do with cocaine trafficking in the Dominican Republic? Please advise. They were flying a Falcon 50 jet with 680kg of cocaine in 26 suitcases and claimed they didn't know what was in the suitcases. The court didn't believe them so the politician and former Intelligence agents broke them out of jail to face a kangaroo court in France. Go figure.

Will there be a new Mission Woman's Inquiry? Will the whole truth behind the Dianne Rock story ever be told? I doubt it. The RCMP destroyed the evidence they seized that implicated Jim Brown. A new inquiry will meet the same cover up the old one did.

Snak The Ripper slays Madchild Bitch

New Zealand All Blacks win Rugby World cup

Another fake news report about the Hells Angels protesting the legalization of marijuana. We saw that once before. If a thousand Hells Angels protested anything in Ottawa all the media outlets would be reporting it.

Thomas Mulcair supports the Charter of Rights, a balanced budget and the decriminalization not the legalization of Pot. What more needs to be said?

Election results: Canadians have spoken

50 Years of Drug Dealing by the CIA

Leaving the Gang Life: Agent K's exit strategy

My exist strategy is pretty simple. If you want to leave the life just leave. Don't become a police informant, stop selling drugs and stop using drugs. It's that simple. If you are involved in the local gang war, there are basically three reasons they are trying to kill you. The most common is because you are selling drugs on their turf. If you stop selling drugs they will be less likely to try and kill you.

The other two most common reasons they want to kill you is because you owe them money or because you ratted them out. Don't get me wrong. Law enforcement has a need for police informants to get the job done. It's just that if you chose that route, the police are the ones that have to protect you. No one else can. If you stop using drugs you will be less likely to have a drug debt. As I've constantly said before, there is a whole world out there that you can't find in a crack pipe. Peace.

Hiking, Snowshoeing and Kayaking around Vancouver

Kerri Krysko & TBM Scandinavia - the torch carries on

Nova Scotia Police officer found dead, man in custody

Operation Fast and Furious showed that

Iran Contra never stopped Gary Webb was Right

Stand True: Gangsters out E Book launched

on 10th anniversary of Gary Webb's murder.

Al Martin testified that Jeb Bush instructed him

to commit investment fraud to raise funds for Iran contra.

The Greek financial crisis was the result of investment fraud

Operation Northwoods in ABC News

Every time a police task force found organized crime, a government body disbanded that police task force. 1) The RCMP issued a report showing how bad money laundering was in BC casinos. Instead of dealing with the problem, Rich Coleman and the BC Liberals did away with the RCMP's Integrated Illegal Gaming Enforcement Team.

2) Operation Phoenix was a Regional Task Force's investigation that targeted Hal Porteous and the BC Hells Angels. The RCMP scuttled that operation and prevented it from going to trial. Then disbanded the task force responsible for the investigation. Allen Dalstrom received a $2 million out of court settlement to keep his mouth shut.

3) 2 1/2 tons of cocaine bound for the BC Hells Angels were seized in the Western Wind bust. Richard Barszczewski from the RCMP scuttled that operation and prevented any Hells Angels from being charged.

4) Pat Fogarty issued a ridiculous head up his ass public rant about how the Hells Angels aren't a problem in Kelowna any more it's the other guys we have to worry about. Then the Gang Task Force and the OMGU proved him wrong in every possible way. So what do they do? They get rid of the OMGU and cut back the Gang Task Force putting another political puppet in charge saying everything is OK.

5) Wally Opal shut down the missing women inquiry as soon as the Hells Angels were mentioned and turned it into a panel discussion where he could more easily ban key evidence claiming the mandate of the inquiry was not to find other suspects even though Robert Pickton was convicted based on the fact that he was not the only or main suspect just an active participant.

6) The Port Police were disbanded in 1997 right when the Hells Angles took over the docks in Canada. Are we beginning to see a pattern yet?
Hiking, Snowshoeing and Kayaking around Vancouver

Grouse Mountain - Cypress - Seymour - The Lions - The Chief - Baker
Widgeon Creek - Harrison River - Deep Cove - Vargas Island - The Broken Islands
Lake Louise New Peaks: Eagle Ridge - Lake Agnes - Fairview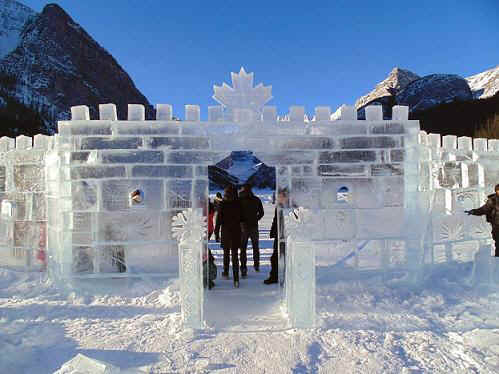 Grouse Mountain: The Grouse Grind is a very popular hike. Everyone should do it al least once. It's short and steep. You hike up and take the gondola down. There is a huge sense of accomplishment. However, since it's so popular and crowded I prefer to take the gondola up and hike up Dam Mountain or Goat Mountain. There is much less people and the view is much better. In Winter you can snowshoe up Dam Mountain and Thunderbird Ridge. They call it the snowshoe grind. It's awesome. This is the view of Goat Ridge:

Cypress Bowl: Cypress is a personal favorite. I took a second job cooking in Hollyburn Lodge during the Olympics. Hollyburn Lodge is an old cabin you have to snowshoe or cross country ski to get to where they serve home made bread and soups. When the Olympics was on I worked at the Ski lodge in the downhill area with a bunch of Australian chefs. Hollyburn Ridge is a great trail in the cross country ski area you can hike in the summer or snowshoe in the winter. You get a great view of the Lions and back country.
Right before or after ski season you can snowshoe up Sky chair on Mount Strachan or hike up during the summer. This is a favorite spot. From here you get an amazing view of the Lions eye to eye and of Howe Sound. You can see the entire journey to the Lions from Cypress along Howe Sound Crest trail up and down Saint Mark's summit, up Unnecessary mountain and all the way to the back of the west lion. It' a longer route then from Lions bay but it's much more scenic. Best time to do it is the fall. You need to bring a lot of extra water in the Summer.
Mount Seymour: As a kid I always thought the Mystery Peak chair lift took you to the top of Mount Seymour. Not so. The highest the chair lifts go now is Brockton Point. To get to the top of mount Seymour you have to hike or snowshoe up. Seymour is actually three peaks. First, Second and Third. The Third peak is actually the top of mount Seymour. In the winter sometimes you can only go as far as first peak or first pump because of visibility. Yet on a sunny day you can go all the way and it's well worth it. The path around second peak to third peak can be hard to find at first and sometimes if there has been too much snowfall cutting across it isn't safe. Yet after a few people have made it that part of the trail gets easier. This is the view climbing up to First Peak: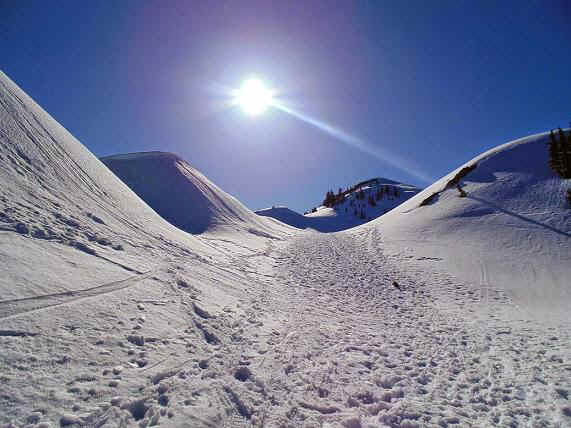 The Lions. You can hike the Lions either from lions Bay or Cypress. Lions bay is shorter and steeper. The Howe Sound Crest trail from Cypress is longer but not as steep and is very scenic. Both routes are awesome. This is an all day hike and you need to bring lots of water especially in the summer. Fall is the best time to go and winter isn't really safe. The Lions are the crown jewel of Vancouver.
Golden Ears: Golden Ears is like the Lions of Maple Ridge. It's possible to do it in a day but is more comfortable as an overnighter. You get an amazing view of Pitt Lake from the top. The best part of this hike is that you can usually water up along the way. This is the view of Pitt Lake from Golden Ears: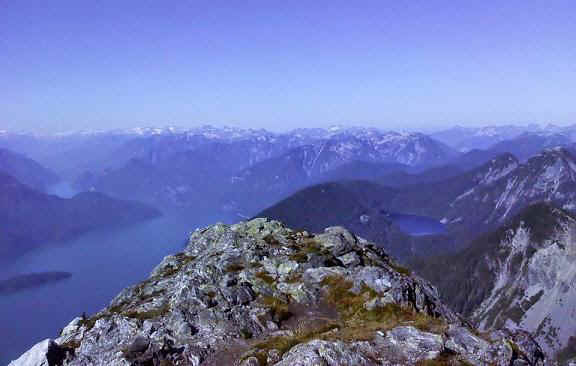 The Chief: The Chief is a great hike just outside of Squamish like the Grouse Grind. Short and steep but well worth it. I like Second Peak the best. The new gondola right beside it takes you to a different peak higher and beside the Chief. You still have to hike up the back of the Chief you can't ride up.
Mount Baker: Ptarmigan Ridge near the ski area on Baker is nice summer or winter. You get a nice view of the Glacier on Baker but you can't access the glacier. To hike the glacier you have to turn up Glacier Creek road just after the park Headquarters long before the ski area and take the Heliotrope trail. That is awesome. It's an over night hike to make it to the summit and is dangerous but getting to the Roman wall is a comfortable day hike. The best time to do it is early summer when the crevasses are still full of snow but the avalanche risk is lower. Too late in the summer and those crevasses open way up and you certainly don't want to fall into one. This is the trail along the Roman Wall during sunrise:

Deep Cove: Deep Cove is a great place to Kayak for the beginner or experienced. If you have never been kayaking it's a good place to start because you can rent a kayak and go with a guide in a group. If you're experienced or have your own kayak you can paddle all the way to Granite Falls and camp over night.
Widgeon Creek: Widgeon creek on Pitt Lake is a great place to kayak or canoe. All the giant power boats go to the other side of the lake while Widgeon creek is reserved for nonpower boats. It's a pristine shallow creek that you paddle up to a campsite then hike up to the water falls. It's a great day trip.

Harrison River: Harrison River is a great place to kayak especially in late November when the Eagle Fest is on. The chum salmon come to spawn and the eagles come to feed on the rotting carcasses just like in Brakendale. I like to put in at Kilby and paddle up to where the water is very shallow. There are eagles everywhere. I saw a tour boat rage up the river that sounded like a train and I just shook my head. Eagles are birds. When you are bird watching you have to be quiet. Some people just don't get it.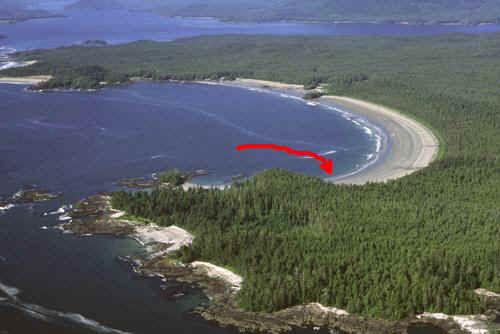 Vargas Island: Vargas Island is a great place to kayak at Tofino on the west coast of Vancouver Island. On the far side of the island you can paddle with the Grey whales feeding on shrimp. Keep in mind that it's not like kayaking in Vancouver. There they have surf so landing and taking off in surf is very different. You have to power straight through it but once you get past the surf it's fine. Vargas can be a bit tense because it's a small island with wolves on it. I saw a youtube video of a guy who was sleeping on the beach and was attacked by a wolf at night. It cut his scull wide open. The Broken Islands is a bit safer as they are even smaller islands with no wolves.
Broken Islands. The Broken Islands just down from Tofino out of Ucluelet is an ideal place to kayak. It's protected from the surf and there are lots of small islands you can camp on and have a fire with driftwood right on the beach. As I said, since there are no wolves on those islands it is somewhat less stressful at night and you still get to paddle with the Grey whales.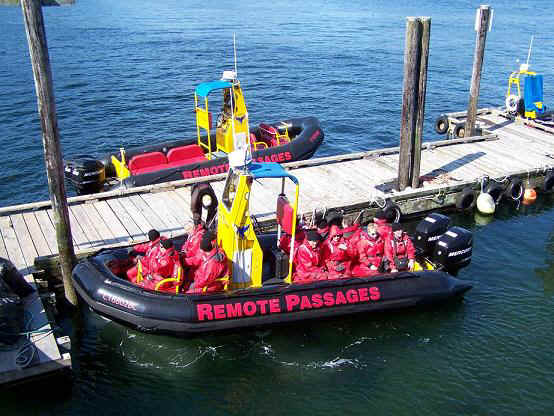 Tofino is a great place to visit. You can join a kayak tour, go whale watching or on a bear watching tour. I didn't realize that ton the coast the black bears flip over rocks to eat crabs and barnacles. The tours take zodiacs up Clayoquot sound when the tide is out and spot the bears eating crabs and barnacles. It's awesome.
Even if you shun physical activity there are still lots of things you can do around Vancouver that doesn't cost a lot of money. You can drive up to the look out spot on Cypress mountain. You just get out of your car and don't have to hike anywhere and get a great view of the city. It's a great place to watch the sun rise or set and a great place to get pictures of the inversion when the fog sets in and you are above the clouds.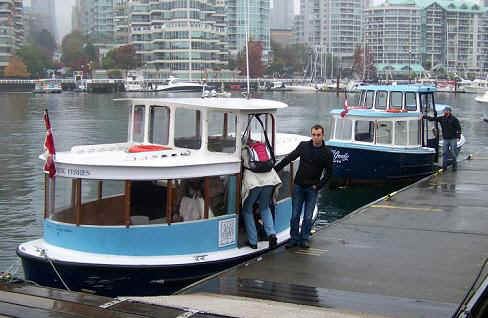 Kids like the Aquarium and the Planetarium. Getting a years membership makes it worth while just like at Capilano suspension bridge. Lynn Canyon suspension bridge is free but Capilano is nice too because it has a new sky walk in the trees. Parking at the Planetarium, flying two string kites at Vanier park then taking a passenger ferry over to Granville island is a great thing to do. The trick with the two string kites is to start off with both hands outstretched in front of you horizontal to the ground then drop them to your sides as you step back. That's how you get the kite up in the air. It took us a while to figure that out but once we did it was easy.
It drives me crazy when people say a town is so small there's nothing to do there other than drink. That is ridiculous. There is plenty to do in the small towns other than drink or do drugs. You just have to get off your ass to see it. So, if you see my reflection on a snow covered hill, maybe a landslide will bring it down. Peace.